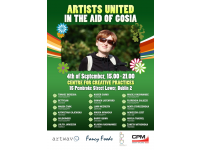 29.08.2010 / 19:57
Charity Event - Artists United in the Aid of Gosia
ArtWave has the pleasure to invite you to "Artists United in the Aid of Gosia" – one-day charity exhibition of art and music. http://www.facebook.com/event.php?eid=152503268109623

The event will feature 18 different artists and 2 DJs who donated their amazing works for our friend Gosia. She

 

is 25 years old. In April 2010, seven years after her last therapy, doctors diagnosed cancer regression causing drastic changes in her life. Presently Gosia struggles with her illness going through another chemotherapy to save her life.
 
An illness does not choose but you may choose to help.
 
This exhibition was created by her friends and people of good will. All the money raised during the event from entrance fee and art-works sales will go directly to Gosia.
Location: The Centre for Creative Practises, 15 Pembroke Street Lower, Dublin 2.

Date:

 

Saturday,

 

4th September 2010.

 
Opening time: 3pm – 9pm.
Entrance fee:

 

€5 with complimentary glass of wine and sample of amazing food from Fancy Foods.

The Artists:

1. Tomasz Bereska - photography
2. Betty San - fashion designer
3. Magda Ćwik - photography
4. Katarzyna Gajewska - painting
5. GoldGinger - photography
6. Julita Jaroszuk - fabrics
7. Kaiser Caimo - painting
8. Oonagh Latchford - painting
9. Liam McCreith - mirror artist
10. Magda Nowacka - photography
11. Barry Quinn – drawing
12. Klaudia Rachwaniec - drawing
13. Maciej Rachwaniec – photography & DJ
14. Florencia Saluzzo - photography
15. Agata Starszewska - painting
16. Agnieszka Szot - collage
17. Nicola Tancrel - painting
18. Ĺťaneta Witkowska - painting
19. DJ Daniel
Back to previous page