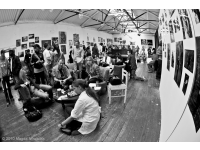 10.06.2010 / 00:00
Splash Art Festival - week after!
Hello Everybody,
Splash Art Fest rocked! Thank you all for participating and making it happen! Thanks to
Back Loft
(
www.lacatedralstudios.org
) for having us there again and ArtWave for the first time.
I would like to thank all wonderfull
artists
, who took part in the event. You guys are incredibly talented! Keep it up!!! Also big thanks to our sponsors
Barefoot Wine
(
www.barefootwine.com
) and
Manna Food
(
www.manna.ie
)
The most, however, I would like to thank few people, who helped me like hell organising it and were damn patient with me!
Davide Rossi
for amazing ArtWave logo.
Bartosz Chmielewski
 from
www.raijn.com
(creator of this site too) for making
http://art-wave.org
Maciej Rachwaniec
for designing poster and leaflets.
Krzysztof Frendorf
for printing all posters and leaflets (even too many!!!)
Betty San
for getting Manna to sponsor us!
Magda Michalewicz
,
Justyna Neumueler
&
Kevin O'Brien
for helping me in the Back Loft during the weekend.
Guys you are the best of the best. Thank you for everything!
All the best,
Magda
 
 
 
Back to previous page