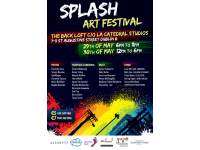 27.04.2010 / 23:33
Splash Art Festival 29-30 May 2010
ArtWave, cultural organisation has the pleasure to invite you to Splash Art Festival, a 2-day festival of art, music, film and dance. Its aim is to celebrate the diversity of art by introducing vibrant, emerging and established artists/performers along with their creations and talents.
 
The event will feature

 

27 different artists & performers from diverse backgrounds and nationalities ranging from painters, photographers, vjs, accessories designers, model makers, mirror makers, mixed media artists, visual artists, musicians, dancers, filmmakers and djs.
 
Come and enjoy the art with a complimentary glass of wine from Barefoot Wine (http://www.barefootwine.com) and heavenly food from Manna (http://www.manna.ie)
 
Location: The Back Loft c/o La Catedral Studios (www.lacatedralstudios.org), 7-11 St. Augustine Street (Off Thomas Street), Dublin 8.
 
Festival time table:
Opening night: Saturday 29th of May – 6pm to 11pm
Closing day: Sunday 30th of May 2010 – 12noon to 6pm
 
Line up:
29th May - Saturday:
6-7 PM - Elder Roche
7-8 PM - Pearse McGloughlin
8-9 PM - James Guilmartin
9-10 PM - Apollonia Tribal Bellydance
 
30th May - Sunday:
1-3 PM - FrictionFire
3-4 PM - Elder Roche
4-6 PM - Juan Jose Manzano
 
Entrance fee:
€5 - one day ticket
€7 - 2day pass
 
Limited capacity, no wheelchair access.
 
The Artists:
 
1. Ciaran McClelland - video/slide projection
2. Dominika Cicio - photography
3. Liam McCreith - mirror artist
4. Ĺťaneta Witkowska - painting
5. Tomasz Bereska - photography
6. Kaiser Caimo - painting
7. Marcelo Ruffino - painting
8. Harry Walsh - painting
9. GoldGinger - photography
10. Betty San - fashion designer
11. Tanya Turner - painting
12. Agata Starszewska - painting
13. Aisling Fegan - painting & modelmaking
14. Florencia Saluzzo - photography
15. Klaudia Rachwaniec - drawing
16. Katarzyna Gajewska - painting
17. Edel Cox - painting
18. Barry Quinn - painting
19. Maria Mollohan - photography
20. James Guilmartin - acoustic performance
21. Elder Roche - piano
22. Apollonia Tribal Bellydance - dance performance
23. FrictionFire - dj
24. Juan Jose Manzano - flamenco
25. Claire Noons - sculptor
26. Pearse McGloughlin - acoustic performance
27. Magda Nowacka – photography
 
Our Sponsors:
Barefoot Wine - http://www.barefootwine.com/
Manna

 

- http://www.manna.ie/
Back to previous page