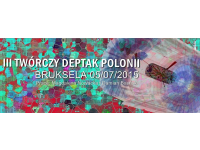 23.06.2015 / 22:12
Exhibition time - 5th July - Brussels, Belgium
Ladies & gentleman of Belgium!
I have a pleasure to invite you to
my first exhibition in Brussels.
The invite is in Polish but you will find all the dates and details in English:
3pm, Sunday, 5th July at Chaussee de Vleurgat 159, 1050 Bruxelles
See you there <3
M.
Back to previous page