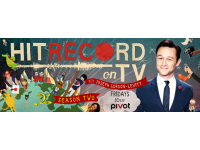 20.06.2015 / 19:28
hitRECord on TV season 2
Good morning Everyobody!
As some of you know I'm part of
hitRECord
community run by lovely
Joseph Gordon-Levitt
and we have a second season of a TV show starting now.
So I'm watching the first episode and to my surprise I see my photo (
Crying Horizon
) there, which made my heart stop for few seconds! It's a great, superb feeling to see your work (even for few seconds) in such a production. I wasn't expecting it at all. So thank you hitRECord, Joe and all the lovely artists involved! It looks amazing, I'm honoured to be part of it :)
So lovely FB people watch this series, join hR and ENJOY!
I was having a little break from creative world but I'm madly editing at the moment. Also have two excitning news but that's coming up soon, so stay tuned, I don't want to jinx it just yet! ;)
Happy Weekend <3
M.
Ps. watch out from 1:10-1:20 ;)
Back to previous page