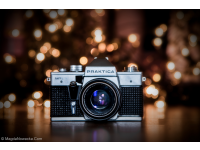 04.09.2013 / 19:47
Project 30 & votes
Hello Everyone,
I think this is my last post as 20-something-old. Because I'm becoming an adult in few weeks I have decided to do a photography project (
Project 30
) for that occassion.
Therefore, I will take photo a day from 1st September till my 30th Birthday (on 30th September).
30 photos, 30 days before my 30 birthday ;)
Please have a look on my
facebook page
, as I already have posted some photos.
Also it is last few days to vote for me in the
Creatives Rising
(I need 40 more votes... so pretty please click
SUPPORT
).
Last, but not least, I am going for holiiidaaaayyys by the end of September and early October (you might figure it out why ;)) I will be in Poland (for some serious shenanigans) and I will travel with my best friend to northern Italy to get lost somewhere between Venice, La Spezia, Dolomites and Tuscany :)
Of course photos will follow :)
Thank you for your lovely words, e-mails and support!
Mwaaaah!
Still-young-Magda
;)
Back to previous page