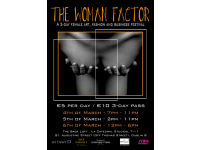 22.02.2011 / 22:36
The Woman Factor
ArtWave is delighted to invite you to our next 3-day event – The Woman Factor.
 
http://www.facebook.com/event.php?eid=150777541644180
 
The main idea of the event is to bring together women of all ages and nationalities to show the diversity and creativity of females in Ireland and to celebrate their achievements and passions.
 
We don't want to focus on any particular form of art but prefer to gather up all passionate females in one place and one time.
 
The event is divided into 3 blocks: art, fashion and business.
 
The festival will take place in The Back Loft , La Catedral Studios, 7-11 St. Augustine Street (Off Thomas Street), Dublin 8 (http://www.lacatedralstudios.org) and will be held on the following dates and times:
 
The 4th of March 2011 – Opening Night – 7pm to 11pm
The 5th of March 2011 – 2pm to 11pm
The 6th of March 2011 – 12pm to 6pm
 
Line up:
 
Visual Artists:
1. Sandra Corrigan Breathnach - Painting
2. Niamh Curry - Painting
3. Siobhan Doyle - Posters
4. GoldGinger - Photography
5. Marta Golubowska - Painting
6. Debbie Lush - Painting
7. Sarah Manson - Printmaking
8. Nathalie McGlynn – Mixed Media
9. Joanne Murray - Sculpture & Mixed Media
10. Aneta Naczas - Painting
11. Magda Nowacka - Photography
12. Hiromi Okumura - Painting & Mixed Media
13. Serena O'Neill - Mixed Media
14. Helen Paisley - Printmaking
15. Elis Taves - Photography
16. Ciuin Tracey – Photography
17. Marta Wakula-Mac - Linocut
18. Joanne Walker - Mixed Media
19. Ĺťaneta Witkowska - Painting
 
Sculpture:
21. Aoife Barret - Sculpture
22. Annika Berglund - Ceramic Sculpture
23. KasiaForest - Glass Sculpture
24. Aisling NĂ­ ChonraoĂ­ - Mixed Media & Sculpture
                                  
Fashion &

 

Business:

                         
25. Laura Cassidy - Fashion
26. Lisa De Beer - Fashion
27. Tatty Franey - Knitting
28. Fafa Hardiman - Fashion
29. Ula Kapala - Jewellery
30. Sarah O'Connor - Fashion
31. Delta O'Hara - Comics
                                  
Performance:
 
Friday, 4th March:
8:00 pm - The Zoryanna - Bellydance Troupe
8:30 pm - Jenn Kirby - Economic Fluctuations composition
9:00 pm - Delta O'Hara – sex phone monologues
 
Saturday, 5th March:
7:30 pm - Apollonia Tribal Bellydance
8:00 pm - Women's poetry group - The Prufrocks - Barbara Smith, Nuala NĂ­ ChonchĂşir & Mary Mullen
9:00 pm - Rampant Productions – "Amy I want to make you hard" – Katie Holms & Sinéad O'Loughlin.
 
Come in, enjoy art, fashion, business & performance with a complimentary glass of wine.

       
See you there <3
 
Marta & Magda
 
Back to previous page