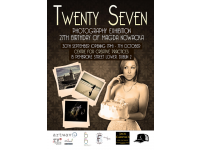 08.09.2010 / 02:05
Twenty Seven
ArtWave is delighted to invite you to "Twenty Seven", a solo exhibition of photographer Magda Nowacka (

www.magdanowacka.com

). This time, the artists will show twenty seven of her favourite images to coincide with her 27th birthday.
 
Her selection for this show consists of traditional and surreal photos of landscapes taken by using a variety of techniques including infrared and ND filters, macro and fisheye lenses, long exposures and conceptual photos showing everyday life from "a different perspective".
 
Location:
Centre for Creative Practises (

http://cfcp.ie

), 15 Pembroke Street Lower, Dublin 2.
 
Opening Night:
30th September 2010 – 7pm to 9pm (with a complimentary glass of wine and food from our sponsors and music by Liam McCreith).
 
Exhibition will be open daily until 7th October 2010 - 12pm to 6pm.
 
Admission free.
 
Sponsors:
Jack Carvill's Off Licence, 39 Lower Camden Street, Dublin 2.
Fancy Foods – catering company.
iTVe – Internetowa Telewizja Polonii –

http://www.itve.pl/index.html
120 na Godzinę – na antenie 103,2 Dublin City FM

http://dublincityfm.ie/programmes/ethnic/polish-120h/
Centre for Creative Practises –

http://cfcp.ie/
ArtWave –
http://art-wave.org
 
With compliments to the Consular Section of the Polish Embassy in Dublin.
 
And special thanks to:
Maciej Rachwaniec –

http://photocrumble.blogspot.com/
Liam McCreith –

http://riamu84.wordpress.com/
Bartosz Chmielewski –

http://www.raijn.com/
Davide Rossi & Krzysztof Frendorf
Back to previous page